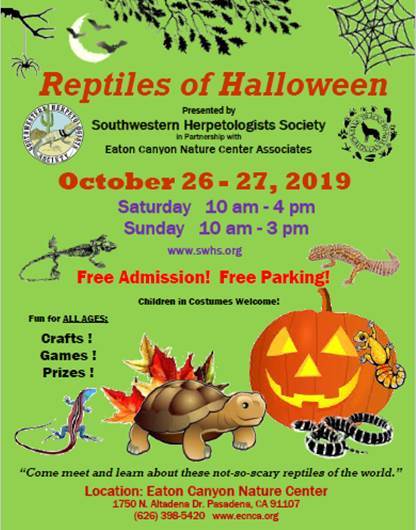 In order to participate in SWHS Outreach Events, please read the following requirements:
-Participants must be a current member of the SWHS
-Participants must rsvp to webmaster@swhs.org and receive a response to their rsvp before they have been cleared by the SWHS insurance policy to participate
-Participants must arrive during the set up period and stay until the END of the event. If you are unable to be on time and stay until the end, please do not sign up for that event and wait for another where you can fully participate
For questions please email the SWHS Event Chairs at webmaster@swhs.org
October 26-27 Saturday and Sunday
Reptiles of Halloween at the Eaton Canyon Park and Nature Center
Set up is at 9:00-9:45 both days. Saturday breakdown is at 4 pm. Sunday at 3 pm.
Please contact the event chairs at webmaster@swhs.org to sign up for this event. We will need to know which day (Saturday the 26th or Sunday the 27th) you plan to attend and which animals you plan to bring. Eaton Canyon does not allow the public to touch animals so our animals are on display only. (Members may hold/handle their own animals behind the tables). This will be an indoor event.