Please join us at one of our meetings! We look forward to seeing you!
Los Angeles Chapter:
The LA Chapter meets on the first Saturday of the month beginning at 6 pm.

Facebook page: https://www.facebook.com/groups/SWHS1/
Our meetings are both in person and on Zoom (with the exception of potlucks and workshops).
To join our meetings please contact webmaster@swhs.org for details. All are welcome!
Founded in 1954 in Orange County, the SWHS has met continuously in a variety of locations over the years. Membership is open to anyone interested in the study & conservation of reptiles & amphibians. Check out our Facebook page!
Location: Our monthly meetings are at the Deukmejian Wilderness Park 3429 Markridge Road, Glendale 91214. We meet in the Ranch House. After you enter the park drive all the way to the very top of the road (past the Stone Barn Nature Center) until the road dead ends. Turn left and park in front of the Ranch House. In winter months the park closes at 6 pm so make sure you are inside before the gates are locked. Park staff will reopen the gates at 8 pm after our meeting to let us drive out.
September 2 Meeting:
Join us Saturday, September 2nd at 6 pm to enjoy a fantastic presentation about the Komodo Survival Program by Byron Wusstig. Byron is a Senior Animal Keeper at the Los Angeles Zoo, working in the Reptiles section for the last 15 years. Earlier this year, he was invited to work with the Komodo Survival Program–an Indonesian non-profit organization researching the world's largest lizards, the Komodo Dragon. This group has been studying Komodo Dragons in the field since 2007 and have published a wealth of information on the species. In his upcoming presentation, Byron looks forward to sharing experiences from working in the field with the Komodo Survival Program and the iconic dragons that they study.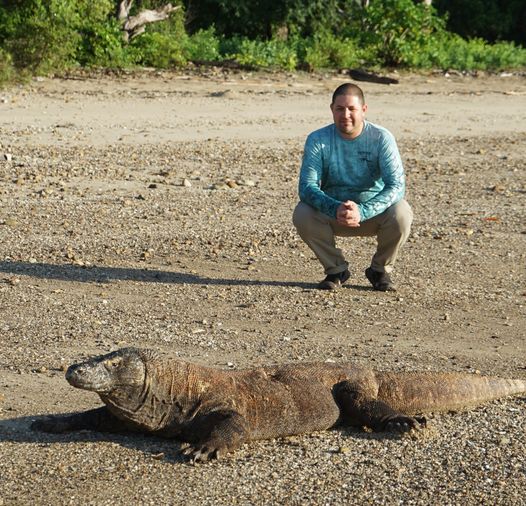 Deukmejian Wilderness Park 3429 Markridge Road, Glendale 91214. We meet in the Ranch House. After you enter the park drive all the way to the very top of the road (past the Stone Barn Nature Center) until the road dead ends. Turn left and park in front of the Ranch House
Guests are welcome to join our meetings! For Zoom login info please contact us at webmaster@swhs.org